Campervan Hire: What you Need to Know
1. Reliability
Compare campervan hire prices and you'll find they vary a great deal. The trick is to get reliability at the lowest possible price. Campervan hire companies can achieve this by using the famously reliable Toyota Hiace and keeping the fleet running smoothly for years by a team of good mechanics. By keeping a range of older and newer models there will be a reliable campervan for every budget. Campervan hire companies should display the year range of each model on their website so you know exactly what you're getting.
This is exactly what Camperman does, making it possible for you to explore Australia on a budget of $35 a day, a price per person that includes campervan hire, fuel costs and campground fees if travelling in a group of four.
2. All Inclusive Quotes
Be sure your quote is all inclusive. That means unlimited kilometres, road tolls, additional drivers, 24 hour roadside assistance and comprehensive insurance will be included. The last thing you want is to budget for one price only to find out it doubles with creeping fees and add ons.
3. 24 hour roadside assistance
Peace of mind is important on a road trip. A campervan hire company should back up reliable campervans with 24 hour roadside assistance so you can enjoy your campervan adventure without worrying about being stranded in the middle of nowhere.
4. Deposit
A hefty security deposit can deplete your credit card account and stifle your vacation budget. A security deposit of AU$500 is reasonable, but many campervan hire companies in Australia charge more than this. Check the deposit amount before booking.
5. Reviews
It's worth doing your research to find out what other people have experienced. No campervan hire company pleases everyone, but Camperman earns 4.2 stars (out of 5) from the editors of Hit The Road and 4 stars (out of 5) from customers on Product Review.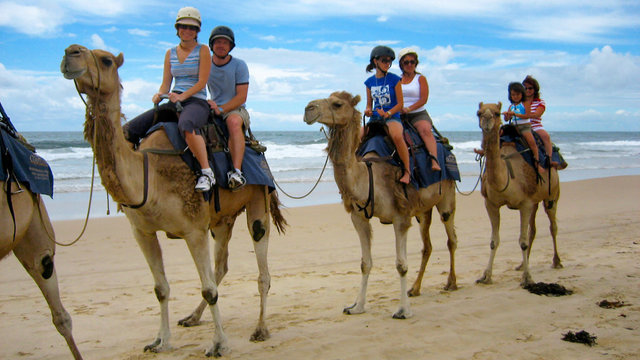 6. Travelling in Groups and Families
Many campervans only accommodate up to three people. Families are often larger than that and many friends like to keep costs down by travelling in groups of four or five. At Camperman, we get this. Many of our campervans seat five and sleep four. By providing you with a tent at no charge, you can increase the number of people travelling in your group so your cost per head goes down.
7. Depot Locations
Check the campervan hire company has depots at the start and end points of your Australian road trip. Camperman has depots in eight major tourist destinations across Australia. From Sydney you can journey to Melbourne, Adelaide, the Gold Coast, Brisbane, Airlie Beach, Townsville, or Cairns. This makes it possible to create a one way road trip, picking up your campervan at the beginning of your journey and dropping it off at the end. At Camperman, we don't charge extra for this.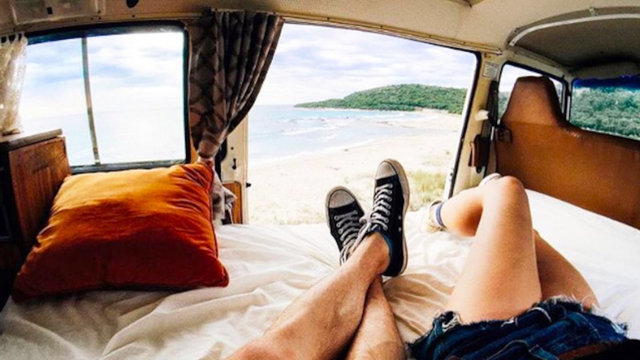 8. Linen and Kitchenware
Most campervan companies kit out their campervans with sheets, towels, and kitchenware. A little wear and tear is to be expected. Teflon might be scratched, knives not quite as sharp as they could be. If you're particular about having items that are brand spanking new, our campervan hire in Sydney is just 8 minutes from a Target store. For just $40 a head you'll kit yourselves up with brand new cotton sheets and pillow cases, fluffy towels, a razor sharp knife and a never-before-used teflon pan.
9. Camping Cheaply and Well
The facilities at caravan parks and campgrounds can range from prehistoric to state-of-the-art. The prices vary just as wildly. To help steer you towards the better campgrounds and caravan parks, we put in a lot of research and include recommendations in our travel guides. To make our list they need to score at least 4 stars on Trip Advisor and Google, and be well located.
We've included free camping, beach camping, National Park campgrounds, and commercial caravan parks with swimming pools and the works, offering something for every lifestyle and budget. To make them easy to find, we map them all at the end of each travel article.
BIG 4 Holiday Park normally quote for the site whereas most other places quote for two people with a fee for each additional person. If there are four or more of you, BIG 4 could work out to be your cheapest option. If you're on a 6 week journey and know you like BIG 4, join their loyalty club ($50) to save 10% on all BIG 4 stays.
Price matching

Camperman's Best Rate Guarantee policy promises that it will match the lowest publicly available price.

Get a Quote