Grafton, Yamba and Ballina
Sydney to Gold Coast Drive
DAY 12: Coffs Harbour to Byron Bay
Yuraygir National Park | Grafton | Yamba | Ballina
From Coffs Harbour, the next big stop is Byron Bay. You can head straight there via the historic town of Grafton and the neighbouring beachside villages of Angourie, Yamba and Ballina. This route 240 km (2 hr and 50 min drive time).
If you have more time on your hands, you can take a coastal detour through Yuraygir National Park to Minnie Water. This adds about an hour onto your drive time. There is ample beach camping here if you want to stay a while.
We've put together a list of 23 attractions along with the best campgrounds and caravan parks in which to spend a night or two. It's all mapped at the end of the article.
Title photo: Jacarandas in bloom, Grafton. Photo by John via Flickr.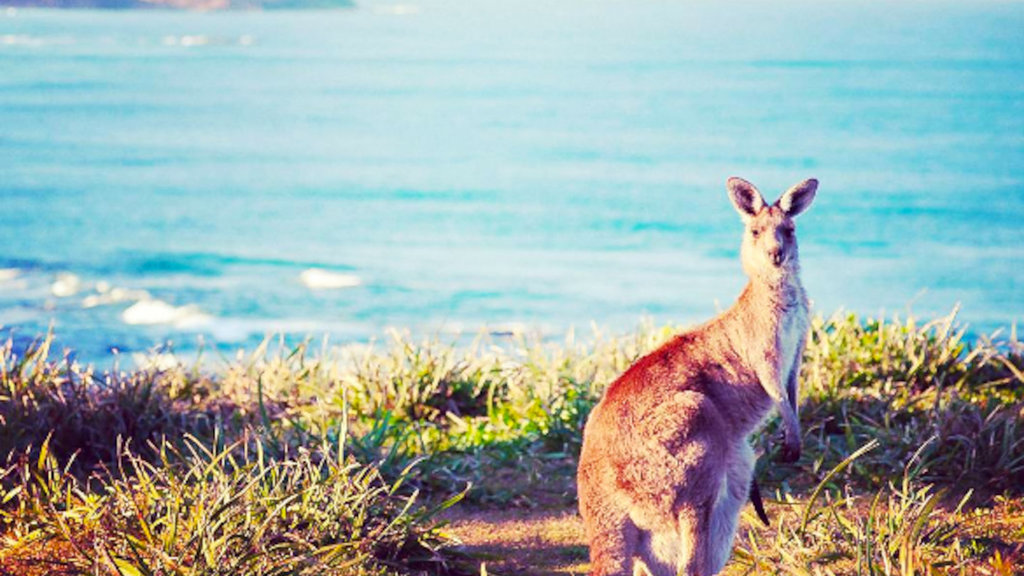 Yuraygir National Park
Yuraygir National Park protects a beautiful stretch of untouched coast and forest, wetlands and heathlands where the kangaroos enjoy the beach as much as you do. Beach camping here is abundant, beautiful and reasonably priced.
4 Walks in Yuraygir National Park

Wilsons Headland Walking Track starts at Boorkoom Campground and meanders for 3 km along beaches and headlands. It gives you plenty of opportunity to watch migrating whales (May – Oct). Take a seat on the headland to admire the stunning views across the ocean. During spring, the heathlands come alive with wildflowers.


Angaphora Grove is a 1.2 km return (30 min – 1 hr) walking track that loops through stands of graceful, smooth-barked angophoras (my favorite Australian native tree). Come back via Rocky Point walking track for coastal views and whale watching.


Brooms Head to Illaroo is an 18 km one way (7 - 8 hours) coastal walk that takes you along sweeping stretches of gold sand and through paperbark forests and woodlands rich in bird life.


Illaroo to Wooli departs from Illaroo campground and meanders for 14 km (5 hours) to Wooli. You will pass through several small settlements, along rocky outcrops and beaches, through paperbark forests, and if you're lucky you'll see an endangered coastal emu.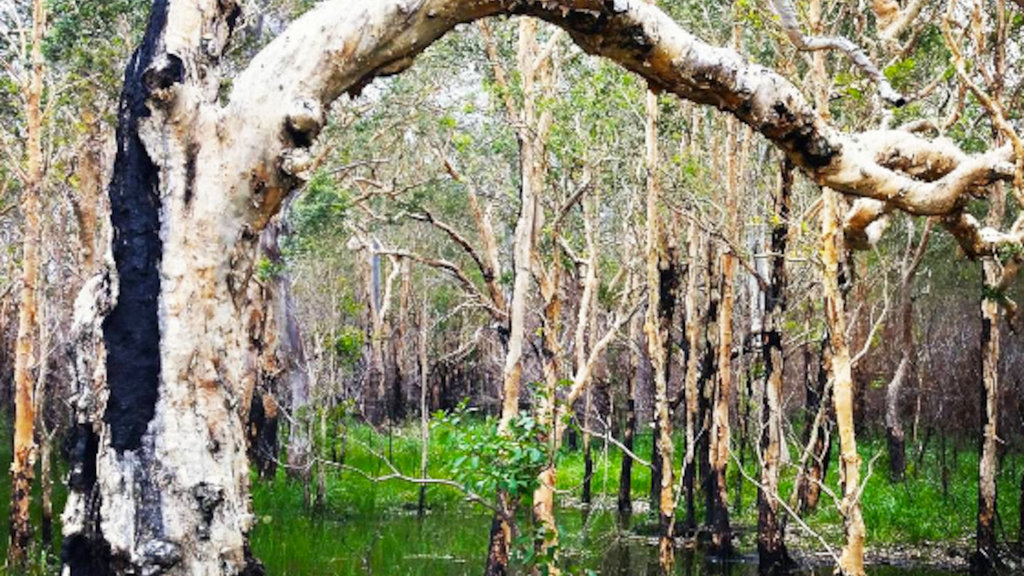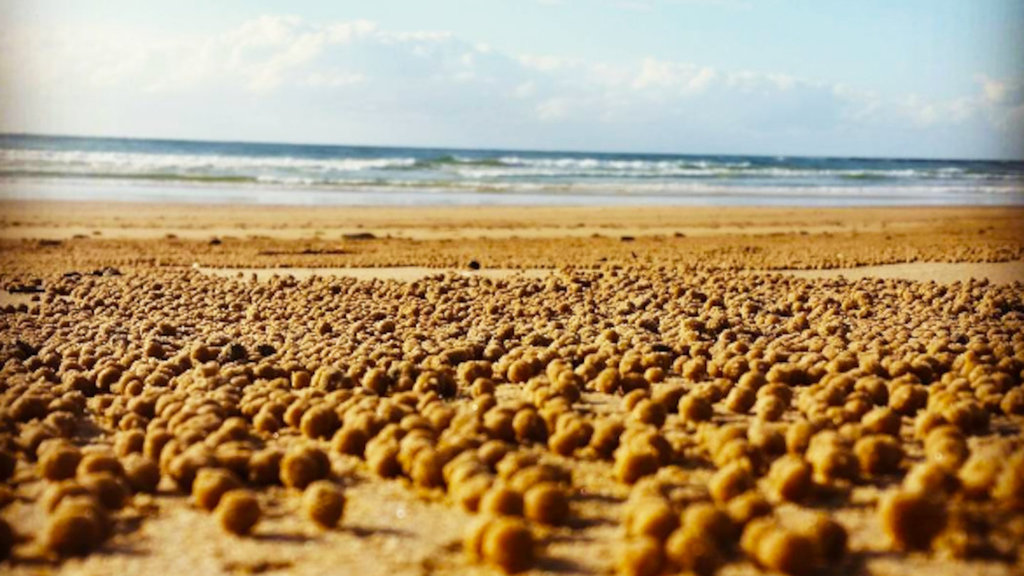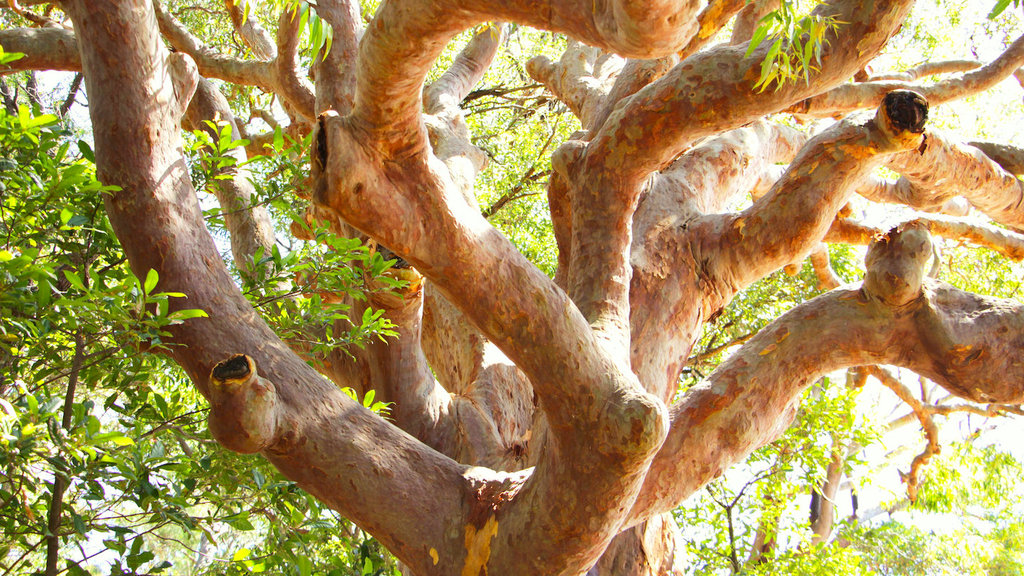 Yuraygir National Park Camping

There are three campgrounds run by the National Park and two privately run campgrounds. The National Park run campgrounds do not take bookings and have basic facilities, normally pit toilets and gas BBQs. The privately run parks have hot showers and a full range of facilities.
National Park run campgrounds
Illaroo Campground is secluded beach camping just a stone's throw from the little village of Minnie Waters but is only accessible in dry weather. It has 60 sites. Facilities include toilets (non-flush), drinking water, free gas BBQs, wood BBQs, picnic tables and fire pits. No bookings.
RATES: $11.50 per adult, $6.50 per child.


Sandon River Campground has 40 beach camping sites on a sandy peninsular by the mouth of the Sandon River and is accessible only in dry weather. It's great for swimming. You'll need to bring your own drinking water. Facilities include non-flush toilets, free gas BBQs, wood BBQs and picnic tables. No bookings.
RATES: $11.50 per adult, $6.50 per child.


Lake Arragan and Red Cliff Campground provides remote beach camping by a river which flows into Lake Arragan, making it a perfect base for kayaking and canoeing. There are 65 sites. Facilities include drinking water, wood BBQs, picnic tables and non-flush toilets.
RATES: $11.50 per adult, $6.50 per child.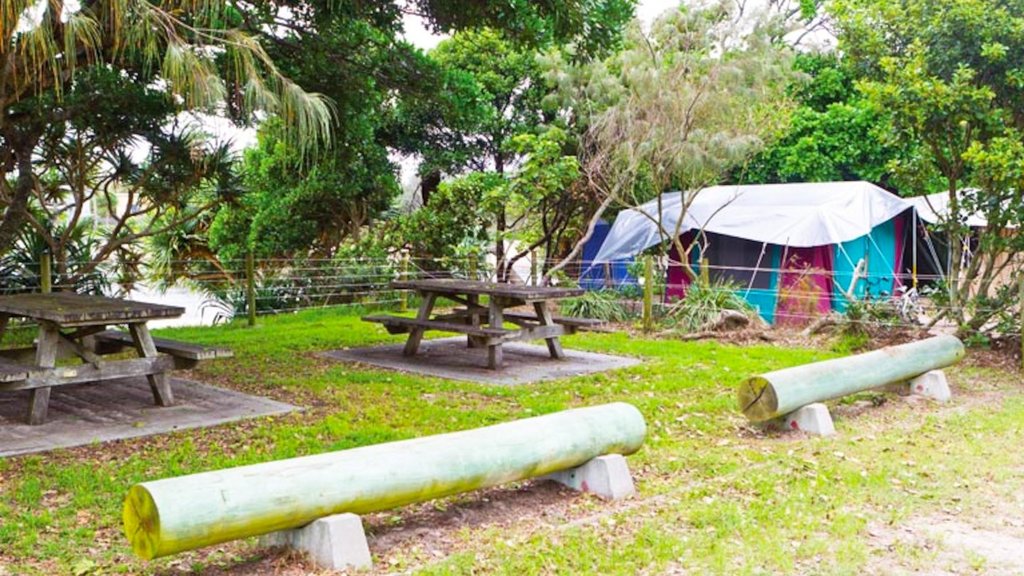 Privately run Caravan Parks

Minnie Water Holiday Park is right on the beach in the village of Minnie Water. Facilities include hot showers, swimming pool, tennis court, BBQ area, camp fires, camp kitchen, laundry, convenience store, tourist information and flush toilets.
RATES: From $30 for two. Additional adults $8, kids $4.


Brooms Head Caravan Park is right on the beach near a general store. Facilities include a BBQ area, children's playground, dump station, hot showers, flush toilets and a laundry.
RATES: From $30 for two. Additional people $10.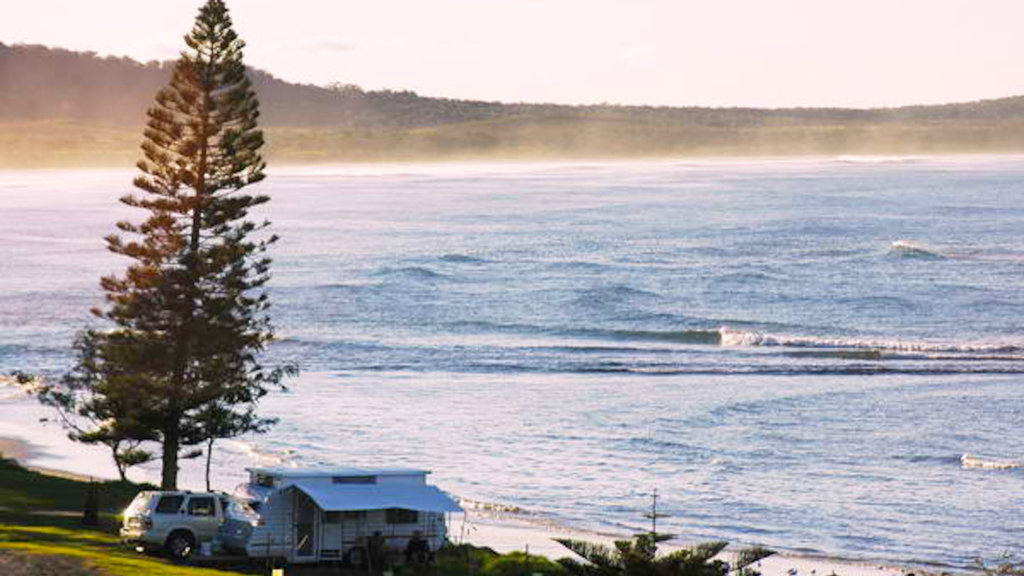 Grafton
Grafton has graceful old buildings and tree lined streets. The purple jacaranda trees bloom in spring (October - November) so if you're here at this time of year, it's worth seeing.
6 Things to do in Grafton
Drop into the Clarence River Visitor Centre for a Heritage Trail map of the historic buildings and a map of the best places to see Jacarandas.
Jacarandas are the main draw card to Grafton and their purple blossoms bloom during spring. A festival celebrates this from late October to early November. We've mapped the best streets for Jacaranda photos.
Drive down Breimba Street through a tunnel of magnificent fig trees.
Grafton Regional Gallery represents a collection of Australian painters, printmakers and photographers including Ken Done, Reg Mombassa, Arthur Boyd, Charles Blackman, Elisabeth Cummings and Clifton Ernest Pugh.
Heart and Soul Wholefood Café offers wholesome food and smoothies.
Grafton Heritage Trail
Christchurch Cathedral was built of brick in 1884 and sits on a Jacaranda lined street. The pipe organ was built in 1903.
Schaeffer House Museum is a furnished Victorian house built in 1900 that is open to the public. You can pick up maps here, too.
Grafton Courthouse was built in 1862. The nearby Post Office was built in 1877, and the Post Office Hotel in 1860.
The Crown Hotel has a dining deck overlooking the Clarence River. It was built in 1930.
Roches Family Hotel, built in 1870, is the oldest hotel in Grafton and has the worlds longest table made from a single piece of wood.
Victorian homes can be seen along Victoria and Alice streets, particularly the section of Alice between Dobie and Powell Streets.
Grafton Gaol is still in use but you can see the elaborate heritage gatehouse, built in 1891.
Camping Grafton
If you want waterfalls and lush forest, head inland to Washpool National Park.
Try your luck with free camping at the Washpool National Park Rest Area.
Boundary Falls Campground is tucked away in the forest with non-flush toilets, BBQs and picnic tables.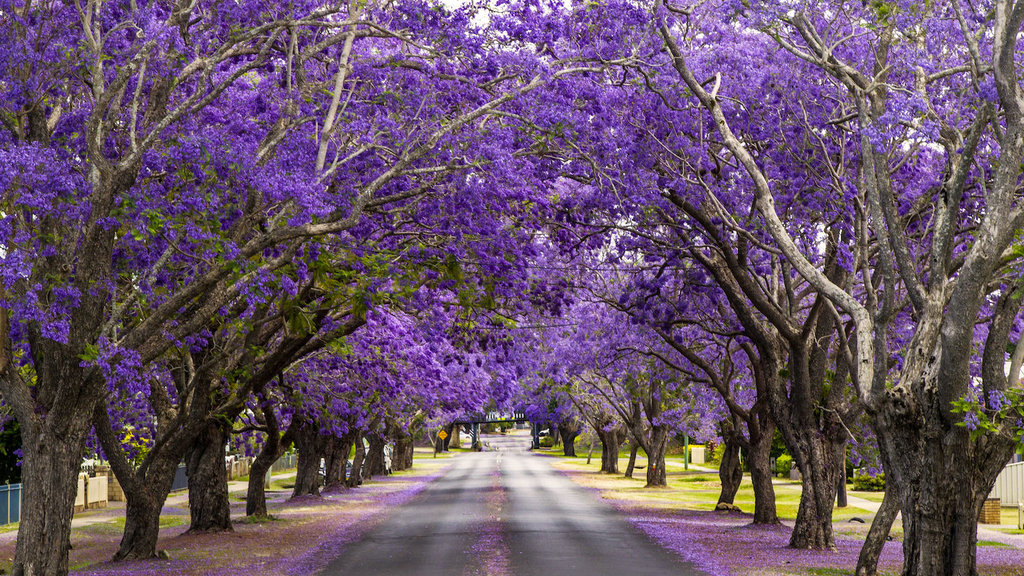 Yamba
Yamba and Angourie are charming seaside villages with a thriving surf culture.
Things to do in Yamba
Angourie walking track is a 10 km return walk (4 hours) that takes you into Yuraygir National Park along spectacular coast line where you can see pods of dolphins and migrating whales (May to Oct).
Angourie Blue Pool is a natural swimming pond.
Walk out to Yamba Head for whale watching in winter.
Swim in the Yamba Sea Water Pool.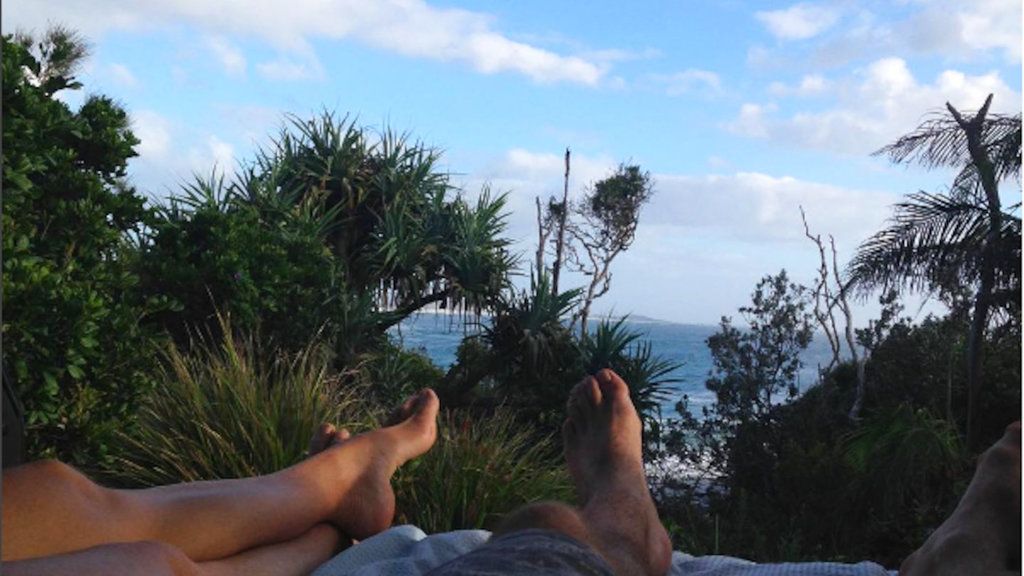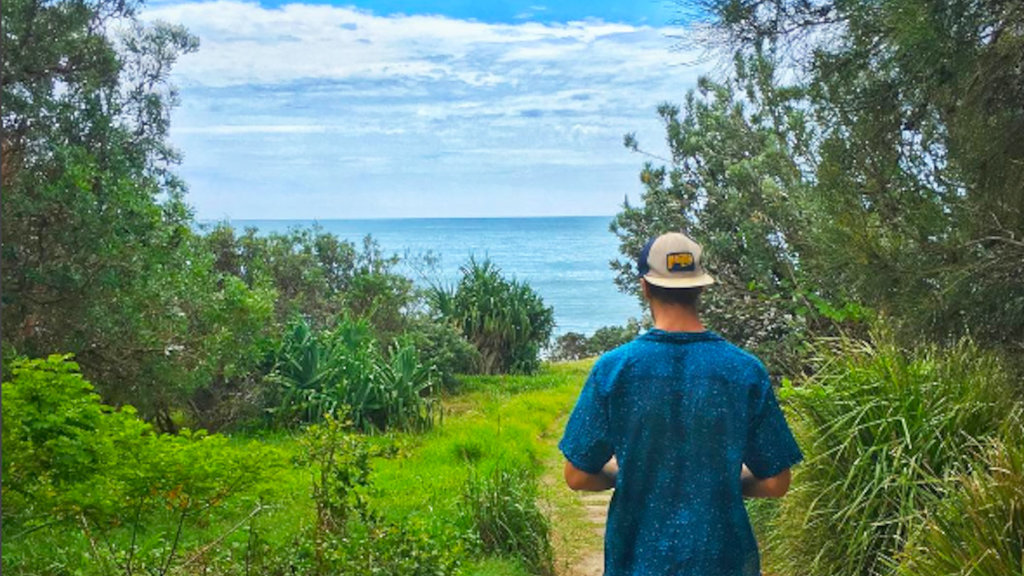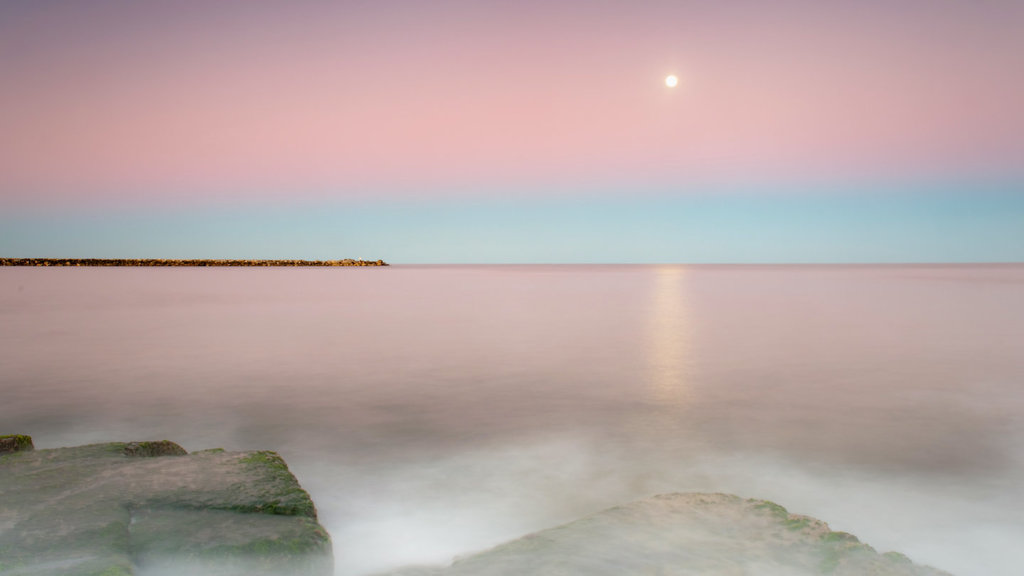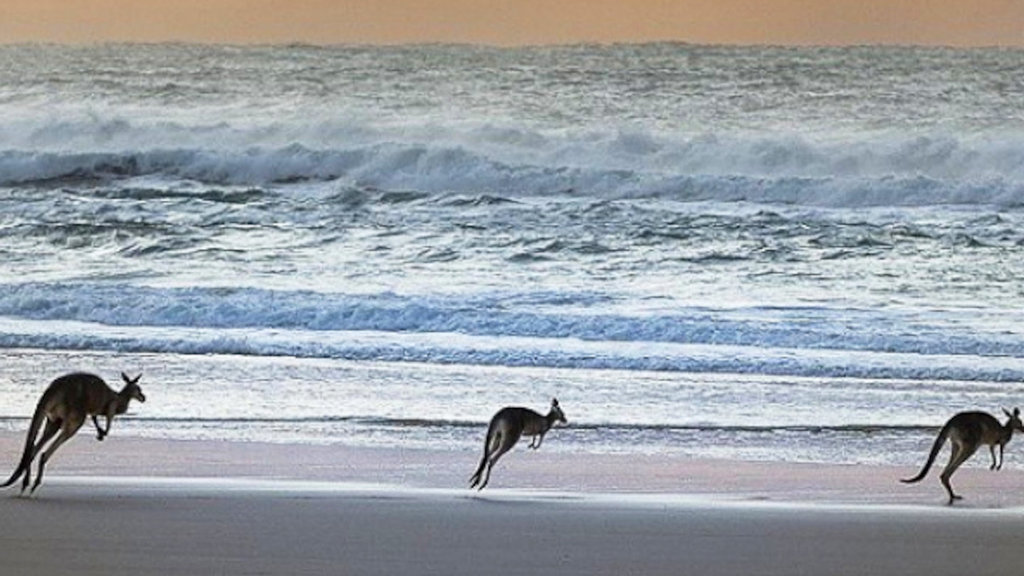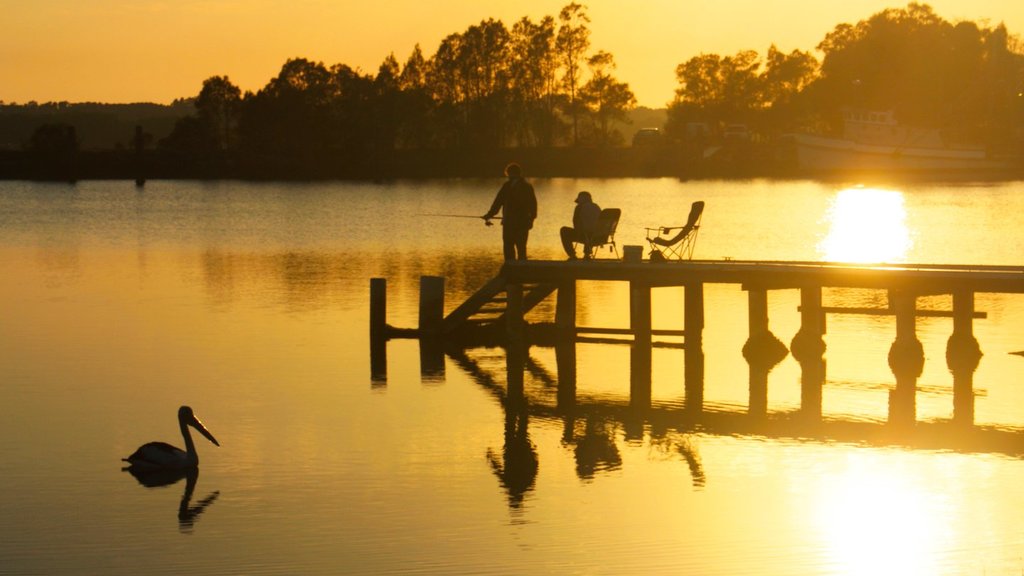 Ballina
Ballina sits on the mouth of the Richmond River with beautiful beaches along its shore, great surf, and plenty of fish.
8 things to do in Ballina
Ballina Naval and Maritime Museum is tucked away in an understated building by the river with maritime memorabilia and a fascinating story about three balsa rafts that arrived in Ballina all the way from South America. Here you can learn about the 187 day journey. The mission of the museum is to collect, preserve and present the rich maritime heritage of Ballina and the large number of mariners, past and present, who live in Ballina.
The Big Prawn is one of those 'big things' tourists like to have their photo taken in front of. As far as big things go, the Big Prawn is quite realistic.
Kayak Ballina will take you on a kayak tour so you can explore the waterways of Ballina township.
Killen Falls is a little north of Ballina. The road will take you to the viewing platform. Not much can be seen from here so if you don't mind clambering over some rocks, make your way to the bottom where you can swim and even walk behind the falls. The falls are on private property, so there are no public toilets.
Beach horse riding at Tassiriki Ranch (just south of Ballina) is a fun way to spend a couple of hours. It's well run, safe and friendly.
Thursday Plantation is a tea tree plantation and café. You can enjoy scones and tea or coffee, walk through the tea tree maze, enjoy the sculptures on the rainforest walk, watch a video on the establishment of Thursday Plantation, and sample the tea tree products. And best of all, it's all free.
Lighthouse Beach is a beautiful place for a swim or beach walk.
Northern Rivers Community Gallery has changing exhibitions of quality work by local artists and artisans including jewelry, ceramics, prints and paintings.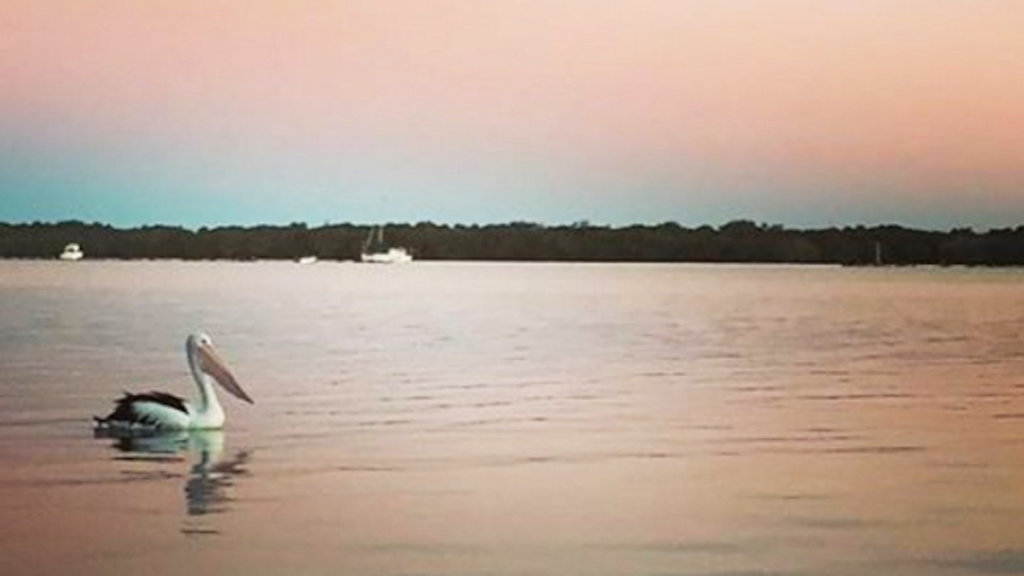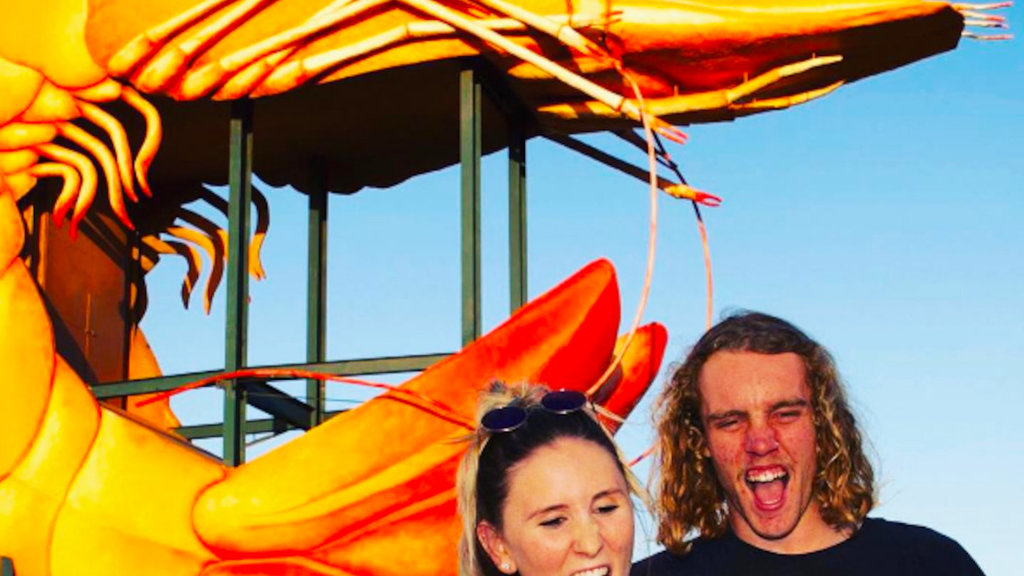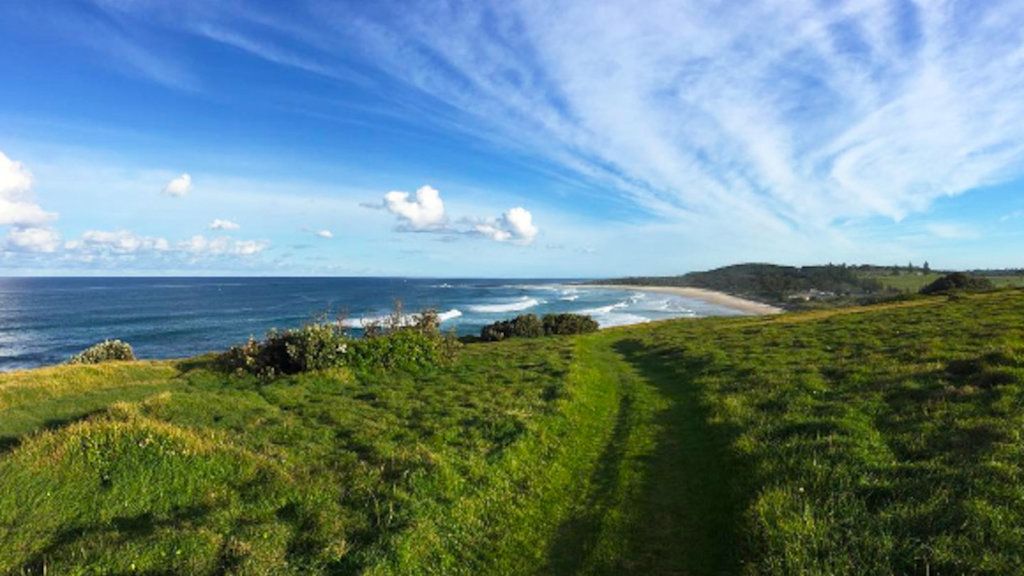 Ballina Caravan Parks

Discovery Parks is on Shaws Bay just a short walk to the beach and is the best value holiday park in Ballina. Facilities include BBQs, camp kitchen, dump point, kiosk, laundry, WiFi, playground, games room, putt putt, beach volleyball, bouncing pillow, movie room, showers and toilets.
RATES: $34 for up to 6 people.


North Coast Holiday Parks Ballina Central is a riverfront holiday park close to shops, restaurants, and a waterslide. Facilities include free WiFi, laundry, gas BBQs, camp kitchen, hot showers and toilets.
RATES: From $36 for two. Additional adults $17, kids $12


BIG 4 Ballina Headlands Holiday Park is near the beach between Ballina and Lennox Head to the north. It has resort style facilities including a solar heated pool, hot tub, kids wading pool, playground, giant chess, jumping pillow, modern camp kitchen, modern showers and toilets with a separate family bathroom, games room/movie room, WiFi, laundry, gas refills, sewer dump point, boom gate security, free BBQs, and beach volley ball.
RATES: From $37 for two. Additional adults $15, kids $12.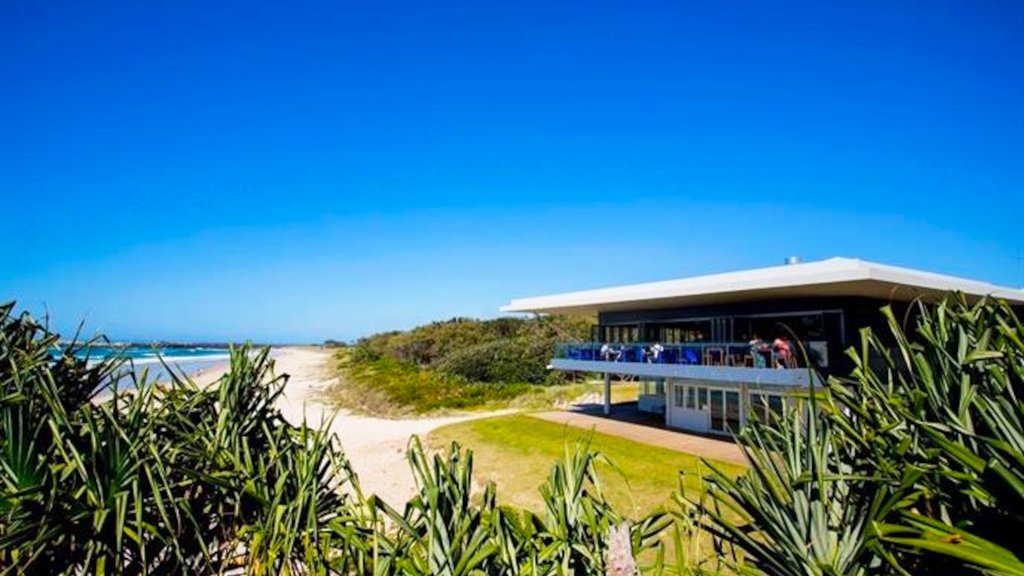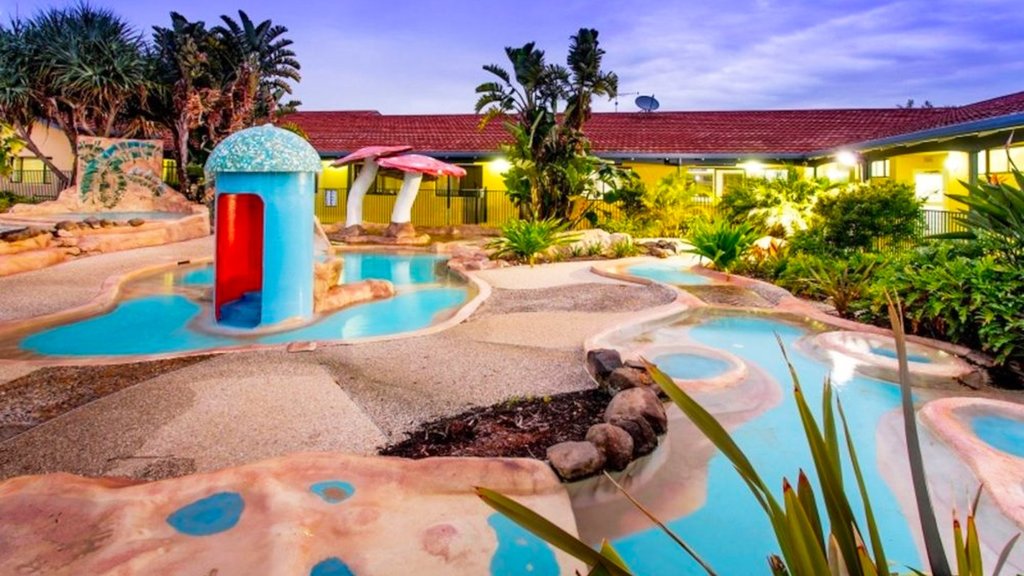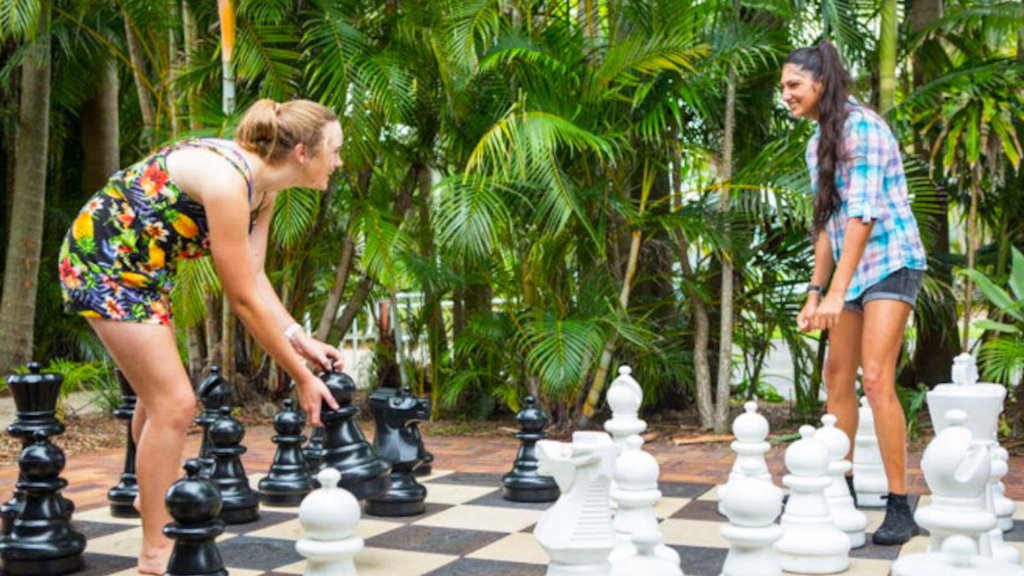 Map: Camping, Caravan Parks and Attractions between Dorrigo National Park and Byron Bay.

<< Day 11 | Sydney to Gold Coast Drive | Day 13 >>